When I first read about Spring Top Week on
Made by Rae
, I was excited. Time to make something for me for a change – what a great idea! I picked out a pattern and found some gorgeous fabric at
Whipstitch
, and was hyped to get sewing.Then the fear and negativity set in. When the pattern arrived, I realised that there was gathering and a zip involved. I've never gathered before, and generally make a mess of sewing zips. Then I started to worry about whether I'd receive the fabric in time. My in-laws are visiting from interstate next week – would I have enough time to sew before/after their stay (the guest bedroom is also my sewing room).
The fabric arrived quickly from Whipstitch, and I've convinced myself if I take it slowly, I'll be able to sort out the gathers and zip (or if I stuff it up, I'll do my best to hide it in the photographs). SO I'm announcing to the world today that I WILL PARTICIPATE in Spring Top Week. I will proudly display the button on my blog.
I will be using this pattern (Simplicity 3838, the capped sleeve version)…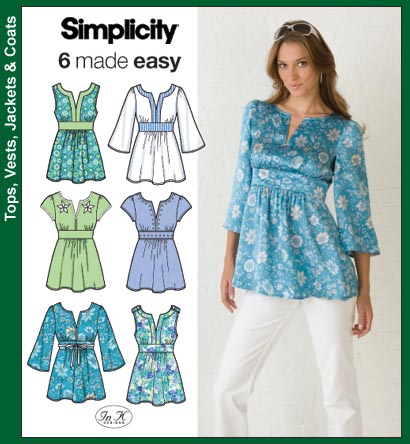 and this fabric…
Ionia in sea glass, from Odyssea by Momo for Moda
I'm looking forward to showing you the end result!