Fav Fabric Friday: Remix by Ann Kelle
I'm a fan of simple fabric designs and a collection that recently caught my eye is Remix by Ann Kelle for Robert Kaufman.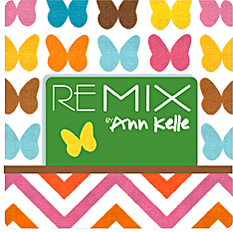 This collection has been around for a while, but a few new prints have been added recently. So that makes 104 different fabrics and 14 colour stories: from the reds and greens of the Holiday collection:
Blues and greens in the Royal collection:
And lots of pretty pinks (with other colours thrown in so it's not so sugary-sweet) in the Spring and Garden collection.
As you can see, there are lots of colours and lots of different prints in the collection. Here are a few of my favourites:
Pink Argyle would make a sweet pinafore (jumper) for a little girl. (And I wish it came in a knit because it would make great socks or leggings!)
I'd love to make a little sundress for my daughter in Tangerine Flowers.
Stripes in Royal is a similar colour scheme to the one I used for my son's bedroom. I love blues and greens for boys.
I'm sure I already had Garden Stripe in my stash, but I can't find it, hmmm…
Lots of bright, fun colours and simple patterns – just what I like!
What would you make with Remix fabrics?