Riding in the Giggle-Mobile
Hoot hoot, it's the Giggle-Mobile!
I'm sure any Aussie readers with small kids know what I'm on about (and are singing along).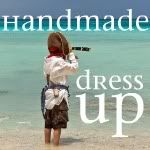 I'm guest-posting today over at The Train to Crazy as part of the Handmade Dress-Up series. Head over to see the full tutorial for how I made my Giggle-mobile (and find out what it is for the non-Aussies!). Check out all the other fun projects for the dress-up box while you're there.