Craft/Office Desk Organization
When I saw the first challenge for the New Year's Organizing Revolution (via I'm an Organizing Junkie) was offices, it was just the motivation I needed to get the desk side of my craft room in order, which has gradually descended into chaos.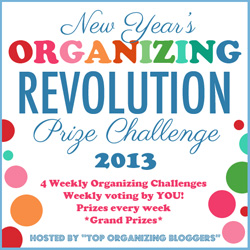 Let's start with the before photos:
So what's wrong with these pictures:
Big pile of cords and power board on the floor (which is impossible to vacuum around. My sewing machine is above it, so there's all sorts of thread and fabric fluff caught up in the cords).
Really ugly grey pin board (that came with the house) covered with random craft supplies, cords and stuff I don't look at!
Half-finished and broken Christmas decorations piled up near the computer, along with lost random craft supplies.
Random bits of paper and stuff for quick jobs that I never get around to doing piled up around the computer.
Boxes with unfinished craft projects piled up

on the printer

.
Our NAS (which backs up our computers) and modem/router is on the floor – seriously not the best for place for it!
The area is drab, cluttered and depressing instead of my crafty haven, and lacking in personality (unless you think I'm drab and depressing – hmmm, best not to talk about that…)
First, I grabbed an IKEA shelving set that wasn't being used which fit in perfectly next to the desks, and put the electronic gear neatly on the shelves (and created a bit more storage space for myself – yay!).
Then I attached an IKEA cord organiser to the bottom of one of the desks. I've had this for around three years and never got around to putting it on – it took me about 10 minutes. One of those "Why didn't I do this before?" moments!
So the cords and gear was off the ground and the printer was off my desk – feeling good about this organising already! (I still need to clip up and tidy the cables in a few spots, but let's not talk about that now…).
Next thing to attack was the pin board. I pulled everything off and found homes for the cords and craft supplies (which really weren't inspiring me anyway). Then I tried to screw the board off the wall to pretty it up a bit – the screws turned but weren't coming out – that must be why the previous owners left it here!
So on to plan B: I searched my fabric stash for inspiration. I ended up using two fabrics from the Spintastic collection by Laura Berringer for Marcus fabrics (yep, I used the leftovers for my monthly planner), making a border along the two sides. I then wrapped the fabric around the board (with a little Mod Podge along the edges to hold it in place).
Ah, now this place is feeling brighter, happier and more like "mine"! I've put a couple of things back on the board, but I'm putting more thought into what I actually want up there.
Then it was time for the job I wasn't looking forward to: the papers and other random to do's. Silly thing is, most of them were 5 minute jobs and I cleared the backlog fairly quickly (and found proper homes for some of the stuff too).
I've still got work to do to make it my dream space, but I've got a better vision for how I want it. Now I just have to stop things piling up in the corner near my desk. Let's see how long this lasts!
Have you done any New Year organising? Next week's challenge is Kitchens. Are you going to join in the challenge?