When I got back into sewing as an adult, the plan was to sew lots of clothes for me. I was about 25 when I bought my first sewing machine, and I envisaged lots of beautiful handmade clothes filling my wardrobe. Clothes that fit me perfectly and expressed who I am.
The first few items of clothing didn't fit me very well. I didn't pay enough attention to sizing and styles that suited my figure. And I lost my confidence.
I had piles of fabric and patterns, but couldn't bring myself to sew with them. I didn't want to be disappointed.
Kids came along, and I started sewing again. Sewing for babies was fun. Even when the sewing wasn't perfect, at least they only wore the clothes for a couple of months. It didn't really matter.
And my sewing confidence grew.
But I was still wary of sewing clothes for myself – especially anything too fitted. I made an A-line skirt or two, where fit didn't really matter. If I got the fit wrong, the skirt just sat a little lower or higher on my hips than I'd hoped.
But I was getting frustrated with store-bought clothes. Pants and dresses didn't fit quite right, with my long torso, narrow waist, and larger hips. I really want to make clothes for myself, but fear of fit problems stopped me.
But nothing's going to change if I don't try. I borrowed books from the library and read blog posts. I wrote a blog post about all the resources I'd found. I still didn't have the confidence to get started.
This post contains affiliate links.
I had to bite the bullet. I watched the Craftsy class One Pattern, Many Looks: Pants by Kathy Ruddy. I pulled out an old pattern McCall's 4200.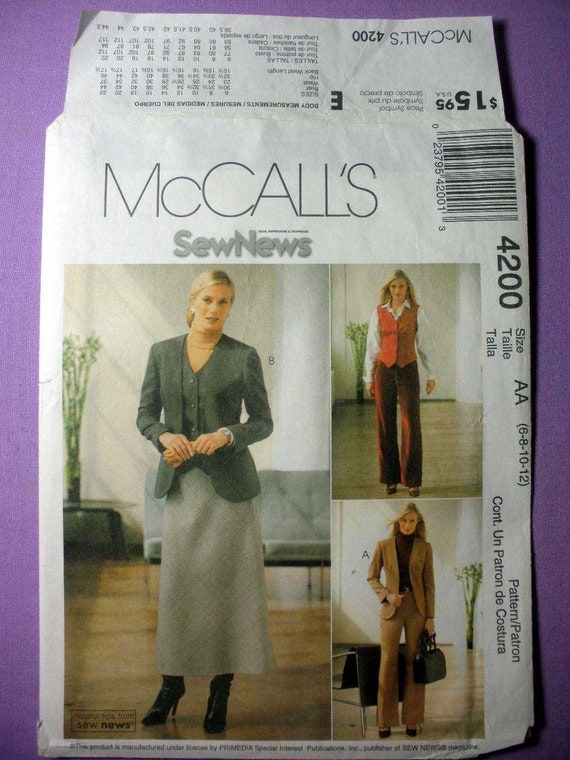 And I pulled out a fabric remnant – I have no idea what this fabric is. I assume it's polyester, it's lightweight and slinky, but has a corduroy texture. I have no idea how much I paid for it, but I know it wasn't much, and I wasn't bothered if I ruined it.
After watching the Craftsy class, it made me think about my body shape. Darts in the front just don't make sense to me. My stomach pokes out and doesn't taper in. But I definitely need darts at the back (for my shapely derriere!) and my waist tapers in a lot at the sides.
I cut out the pattern with a large side seam allowance, to allow for fitting. I removed the front darts and sewed up the pants. I made a cursory effort at fitting the pants as I went. In the end, I had a pair of pants that fit pretty well – not perfectly, but definitely still wearable!
The Craftsy class is more about taking a basic pants pattern and modifying it to make lots of different styles of pants. It had just enough fit information to give me the confidence to try.
And I'm so pleased I did! I have a better idea of the changes I need to make to get my next pair of pants to fit perfectly. I need to transfer the front darts to the side seam better and pay closer attention to fit from the hips to the waist.
Overall, I'm happy that fitting and sewing pants for me isn't as hard as I thought.
Confidence can only be created by doing, and it's time for me to "do" more sewing for me.
What don't you feel confident about when it comes to sewing? What sewing projects have you been putting off? Let me know in the comments.