The Ultimate Guide to Lego Storage
Lego is one of those toys that everyone loves. You remember the fun you had as a kid, building all sorts of things and you want to share that fun with your children. You start out with one of two sets, maybe you keep them separately in their original boxes or another storage container. Then you get a few sets, and your kids want to "free build", mixing up the sets. Everything ends up in one tub… and the chaos begins.
My son likes free building, but when he wants to follow instructions, he doesn't have much patience looking for pieces (well, he's only 5). Mum gets enlisted to help him, and that's when we need an organising system!
So here's the ultimate guide to Lego storage.
Simple Bulk Lego Storage
If you're determined to store your sets separately, but the boxes are getting a bit ragged, put each set in a large zip lock bag (including the instructions and store in a tub, like Love Bug Living has:
After a while, sets get mixed together, and everything just gets dumped in a tub, box or basket (often matching the rest of the toy storage in your house).
For something a little smarter, this storage ottoman was taken up a level by including a building plate underneath the lid.
A drawstring Lego storage mat is a great way to quickly pack up when the kids have finished playing. I like the Swoop toy storage bag (affiliate link), which has a wall around the outside when it's laid out – much better chance of keeping the Lego on the mat.
There are plenty of tutorials to make your own Lego storage bad, including this one from The Fabric Mill blog.
A similar idea one of my friends uses is an old sleeping bag. Open it up to let the kids play, then zip it up and tip into a storage container, or store in the sleeping bag.
An old suitcase or kiddie pool could also be used to keep Lego contained, but still be spread around to find the piece you need.
After you've got a few sets, it becomes harder and harder to find that piece you want. You want to categorise the pieces. So that takes us to the next level:
First steps in divided Lego storage
There are two options for Lego storage: by piece type or by colour. There are pros and cons with each method.
Storage by Colour
Storing by colour is easier to sort. With a 5yo and 3yo playing with Lego here, they are much more likely to put pieces back in the right section if it's by colour.
A smaller number of containers are also required for storing by colour(especially if you combine some of the less common colours).
The down side is, as your collection grows, the quantities in the more common colours increase and it gets harder to find the piece you're searching for.
Storage by Brick Type
When storing by brick type, it's much easier to find the right brick in the colour you need.
More containers are required and it takes more time to sort your bricks, and keep them in order.
Divided storage solutions
The Lego storage head (affiliate link) is a cute place to start for divided storage. Put your Lego in the top section, and give it a shake. Different-sized gaps in the trays mean the smallest pieces fall to the bottom and the large pieces are contained higher up.
It doesn't work perfectly, and it's not the largest, but it's a great place to start with divided storage. And kids love making noise, shaking the thing!
A plastic drawer set is how I first started organising my son's Lego. Something like this from Melanie Keath on Pinterest is simple, and the clear drawers make it easy to see what is in each drawer:
Dividing your collection into storage tubs is also an option (and how cute are these (affiliate link):
Hanging shoe organiser is another great visual way to sort your Lego. This one is from Kids Activities blog:
The IKEA Trofast storage system is another popular Lego storage solution. This one is from I Heart Organizing:
Hardware Store Lego Storage Solutions
The hardware store is a great place to look for Lego storage ideas. Really, Lego is just hardware for kids (and grown ups). '
A tool box with dividers gives you portable Lego storage. One similar to this (affiliate link) is shown here on Babble:
Hanging or stackable storage bins work perfectly for dividing up your collection. This storage system can easily grow as your collection does (and as you realise you need to divide into more and more categories to find the piece you want!). This is what Happiness Is Homemade used: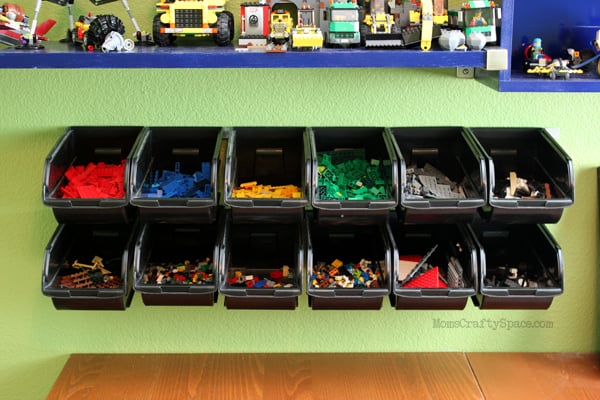 Here's a similar system using tilt bins from the hardware store from Eric Harshbarger:
For a solid, last-a-lifetime Lego storage option that looks impressive too, use a tool cabinet or trolley like this one from Raisin 4:
It's hard to see the kids breaking that (or tipping it all upside down!), and maybe you can gift it to your kid's shed when they move out!
Play Area with Built-In Storage
If you've space, having a dedicated Lego play area with built in storage is the way to go. Here's an example of a Lego play table with built in storage from Ikea Hackers:
Pull out storage under your kid's bed is another great way to bring the play area in and out as required. Here's a great one from Daniel Sicolo:
These drawer tidy trays on a piece of wood are another great idea for underbed storage, especially if the space is small (such as under an ensemble):
That Mommy Blog has set up the IKEA Trofast system with a desk in-between. A clever integration of play and storage area:
For an older kid or grown up, this glass-topped desk with Lego stored in the drawers is gorgeous (found on Kika Reichert inspirations):
When your collection starts taking over the house, why not build something like this, complete with sliding panel, from Fred Beck on Flickr:
Mini Fig Storage
Don't forget storing all those funny little Lego-men (aka Mini-Figs). Sure, they could just have another drawer or tub in your system, but why not put that cuteness on display? Glue Lego blocks to a picture frame or wall to create a Mini-Fig display, like this one from Clean and Scentsible:
Jedi Craft Girl took this up a notch by creating dedicated shelving for Mini-Fig display:
A shadow box (or in the case of Mondocherry, a printer's tray) is another cute way to put those Mini-Figs on display.
Instruction Booklets
Another Lego item that you may need to think about storing are the instruction booklets. Why do they make them so flimsy?
A separate tub or drawer in your storage system is a simple way to go, but then they get ripped and torn so easily when you're looking for the one you want.
A binder and sheet protector system is a neat way to store the instruction booklets.As your collection grows, you can have separate binders for different Lego themes. Here's how they did it on the Pleasantest Thing:
A filing box with dividers is another tidy idea for storing those manuals. This one is from Clean and Scentsible:
Another option is to download the instructions from the Lego website and store the pdf versions on your tablet or PC. Great for older kids (or adults) who have a device of their own. A riskier decision if you're sharing the device with a younger child!.
Hardcore Lego storage solutions
While not so practical for the younger Lego builder, if you're looking for the most efficient way to store your Lego, check out this system from Evil Mad Scientist:
It's both genius and absolutely insane all at once (and the efficient engineer in me just loves it – if only I could convince my 5yo of the benefits!).
If you're looking for more hardcore Lego storage ideas, have a look through this Flickr group.
I had a good laugh at this very accurate description of the evolution of lego sorting.
And that's the ultimate guide to Lego storage. What have I missed? What Lego storage system are you using at the moment?